Creative Writing Hike
September 3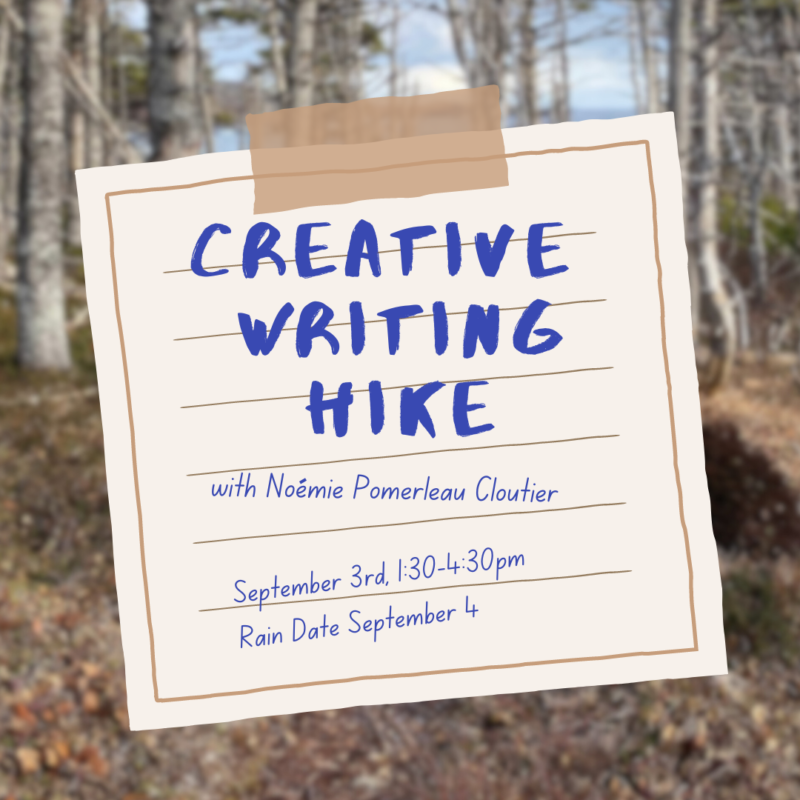 In this beginner workshop participants will walk along Murphy's Cove trail to let memories and scenery inspire them. Guided by Noémie, they will then use what they have gathered on the walk to each write a short creative piece, and help each other improve what they have written through sharing in a relaxed and friendly atmosphere.
As an artist Noémie aims to make literature more accessible. She is deeply convinced that everyone has a story to share and can write something creative and beautiful when given the occasion to do so.
Participants are encouraged to bring the following:
-Hard notebook + pens / pencils or cellphone (writing material) The gallery can provide some paper and writing utensils if needed
-Small blanket or towel to sit on
-Water (and snack if needed)
-Good hiking shoes / boots
-Bug spray and sunscreen
This workshop is weather dependant. In the case of rain of unsuitable weather, the workshop will be pushed to Monday, September 4th. Registration is Required.
Times and Locations
September 3, 2023
1:30 pm
Union House Arts